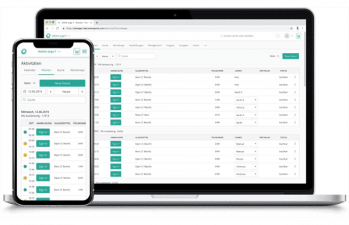 See the power of Eversports in action!
In the online demo we'll learn about your sports business, show you how the Eversports Manager works, and answer any questions you might have.
Easy-to-use management tool
for your studio or sports venue
More time for your passion. More customers thanks to Eversports!
Book your online demo here:
How much do I pay when I start between 22nd of March and 10th of April?
The first 3 months are completely free! You only start paying from the 1st of July 2023.
From when and how much do I pay for the Eversports Manager?
From July 2023 you will pay our monthly fee with 25% discount. The monthly fee depends on the number of bookings in your studio or sports facility. The discount period ends in December 2023. From 2024, the regular monthly fees will apply.
How do I get the discount?
By booking a free demo with us and signing your contract by April 10! During the demo you can discuss with one of our team members all the details about our Easter deal and also any other questions or requests you may have about Eversports Manager.
What happens during the Onboarding?
If you've decided to go for the Eversports Manager between March 22 and April 10 (yay!), you'll get free onboarding from us. During the onboarding meeting, someone from our team will help you get started successfully with the Eversports Manager. From accounting to class scheduling to customer data, we'll help you to get started step by step.
What happens after the discounted months in 2024?
From January 2024 you will pay 100% of the monthly fee. All details will be discussed with you in the demo.
Think of us as your new reliable partner. Our expert team will guide you through every phase of your growth.
"With Eversport Manager I found a software that makes everything as easy as possible for me."

Marlis Hochwarter, Crossbox
"My customers are really happy about the flexible online booking process."

Birgit Prinz, Rising High
"Every week I save around 7h on my administration, which I now dedicate to my clients instead."

Eva Scholian, Ananya Yoga