Manage your studio easily
Get a Live Personalized Demo
of Eversports Manager plateform and ask your questions!
More than 3.500 studios in Europe are using Eversports
Join this growing community!
"Eversports is really easy to use, all steps are simple and clear. And the whole team always works on helpful solutions for yoga studio owners like online classes or video on demand."
Nadine
Damn Good Yoga
"Fortunately, we were already working with the yoga management software of Eversports. It really saved us in this critical situation."
Marina
Iyengar Yoga Hamburg
"For us Eversports is both our booking platform and our management tool for our yoga studio. We do everything with it!"
Cécile & Anne-Lise
Bliss Yoga Home
What you will get as an Eversports client
The most complete tool to manage your studio: online booking and payment system, memberships, invoicing, automated marketing… I can't even list all of the benefits!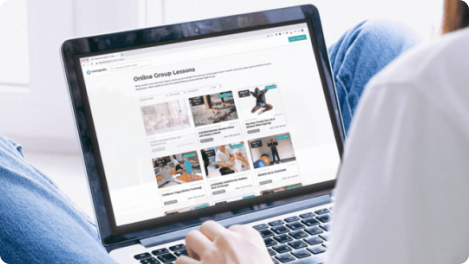 Get listed on our sports booking App for free! It's convenient for your existing clients to book directly on their phone and you get the added benefit of more visibility to new clients!
Managing a studio is not easy. Our team is here to help you save time on your business admin and become your expert partner that will provide guidance on how to grow your client base, win visibility, but most importantly manage your business more efficiently.