Online classes for studios
Here you'll find supportive blog posts, help center articles and webinar recordings about how to keep your studio running by offering online classes.
We want to support you and your business as best as possible in this challenging times!
How do online classes work?
How does it work for your customers


Easily join via the app or desktop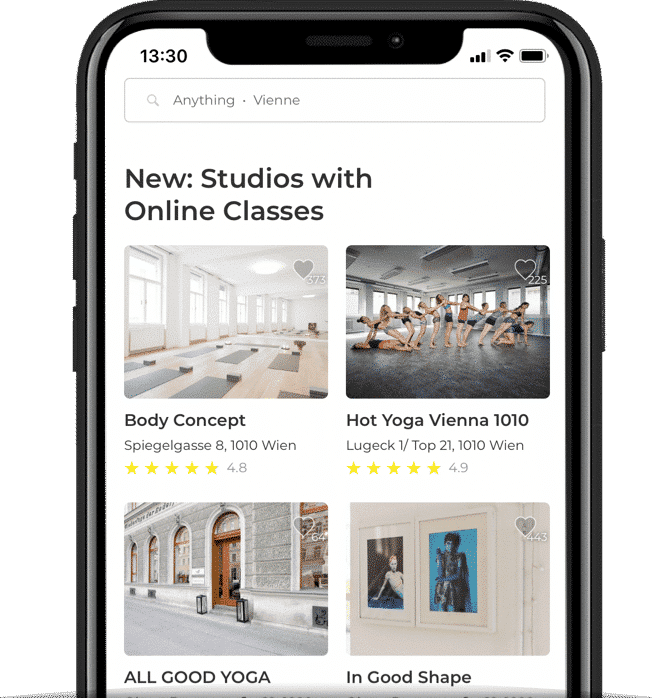 Clear overview of online classes
Your customers can easily find and book the next online class. The tag "online stream" let them know which of your classes are now available online.
Easy registration process
Your customers will see a button in the Eversports app that allows them to start the live broadcast directly from the app.
Immediate start of the broadcast
The button will become active 15 minutes before the start of a class. It will open the link that you have provided in your Eversports Manager for that specific class.
The Eversports Manager offers your studio the opportunity to keep your revenue going by offering online classes in times of Corona. Open up your studio for your online community!
Offering online classes is now even easier! We introduced a new feature for the Eversports Manager to make it even easier to set up online classes for your studio.
All you need to know to start
with online classes in your studio
To make sure you don't lose single bits of it, we recorded our previous webinars on the topic of online classes. You will find all recordings by visiting our Eversports Manager YouTube channel. Don't forget to subscribe to our channel to stay in the loop and get the latest videos updates.
The Eversports help center is the database for all the newest updates and features releases information about the Eversports Manager. Besides regular updates, we also provide our partners with useful tips, advices and learnings from other successful studios from our community.
Experience from our partners
Read what our partners have experienced by offering online classes in their studio
"My customers love the possibility to train online and at the same time, stay fit at home with their favourite teachers. I started directly to livestream my training online and now more and more people join our online classes."
"The Eversports team ensured that we could immediately respond to the current demand for online workouts. Instead of our usual park exercises, we brought our trainings straight to the living room of our customers."
"The reactivity & personal support of the whole team is really outstanding. I have a clear feeling that we are working together. Not to mention all the extra functionalities you have added to adapt to the current situation!"
Already over 500 studios are offering online classes with Eversports Manager
Start with online classes today
Are you ready to grow your business?
Schedule your demo.
Over 3.200 studios trust Eversports Manager to automate administration, increase retention, boost acquisition and grow their business in a smart way.
Complete the form to schedule your free live demo today and find out how the yoga software can help your business grow.