Eversports, more than software
Win a partner to grow your business
Read how our solution has streamlined our partners' administration, boosted their revenue and increased their customer retention.
"Customer loyalty and customer care is only possible with the right management software and the cash register change made it clear that we were switching to Eversports."
"The software is really simple to use and well structured. It helps to automate a lot of work like for example in the area of ​​online bookings, payments and the teachers payroll.
"One of the biggest advantages of the Eversports booking software is its integration with other Apps and platforms to reach out to new customers."
Discover how eversports helps your business
Automate administration,

and save valuable time
Organisation and management are at your fingertips 24/7 with Eversports. Set up automatic processes for tasks such as scheduling and invoicing while you maintain a clear overview of your business at all times. Free yourself from time consuming administration and spend more time doing what you love.
Partner with us to
grow your business
All our partners have exclusive access to the Eversports marketplace. List your business and services to tens of thousands of our members and benefit from enhanced online exposure to our community. Anyone looking for your services can find you on their phone and sign up at the touch of a button.
Ensure your customers
stick around
Eversports partners report significant increases in customer retention rates. Give your clients total control over their training and make it easier than ever for them to keep coming back for more. Rise above the restrictions of paperwork and get ahead of your competitors by offering fast and easy online booking 24/7.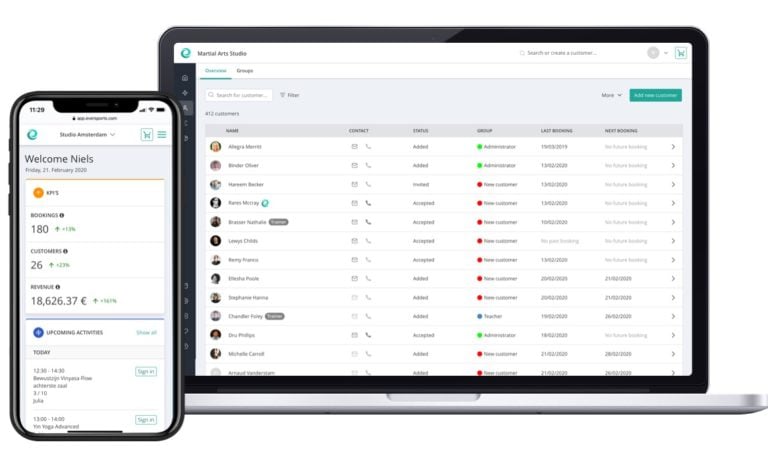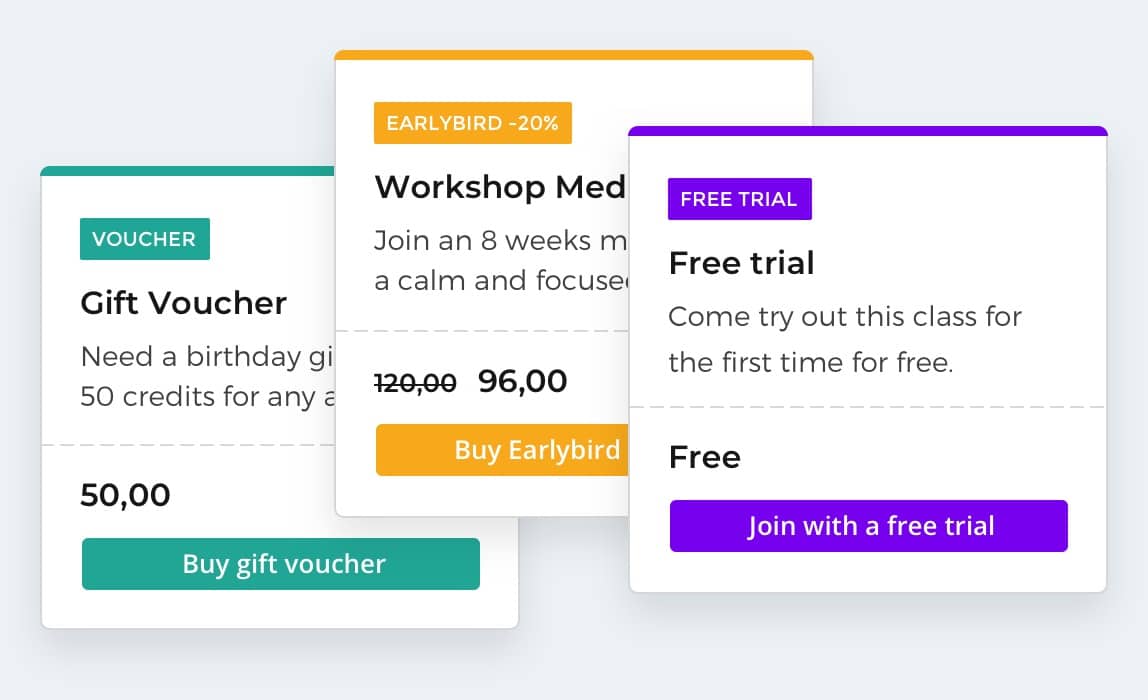 Activate your community

through exclusive products and offers
Benefit from enhanced marketing features to grow your community and turn new joiners into loyal customers. Offer free trial classes then convert newbies into members to drive revenue. Let your members purchase gift vouchers  for your studio. Set-up incentive pricing such as early bird discounts to ensure your sessions have full attendance.
Bring everything together

in a central platform for total control
It's easy to connect Eversports Manager to other aggregators using an API link. Among others, we are compatible with Classpass, OneFit and Myclubs. Integrating the different systems that you use into one main tool gives you total control of your business. All bookings, payments and cancellations across all systems will be processed by one platform, giving you ultimate visibility. Ensure total consistency for all your clients and enjoy the benefits this has on your revenue.
Features that make you smile
Ready to meet the Eversports team?
Sign up here for a live demo and learn more about what our software can do for your business.
Eversports Manager is rated 4.5 out of 5
Are you ready to grow your business?
Schedule your demo.
Over 3.200 studios trust Eversports Manager to automate administration, increase retention, boost acquisition and grow their business in a smart way.
Complete the form to schedule your free live demo today and find out how the yoga software can help your business grow.