Less time for organisation,
more time for sports
Less time for organisation,
more time for sports
Reliable management software for multisports centres
Created to meet your business' needs. For all types of sports!
Easy and fast. Save valuable time!
The sports software was developed to facilitate your daily work. Having everything in one single system lets you focus more on your customers than on administrative tasks.
We are here to support you
Get the most out of the sports software by contacting our local support team whenever help is needed. We care about you as a partner!
Customer acquisition made easy
With the Eversports marketplace you give potential customers the opportunity to discover your sport offer. From beachvolleyball to paddle tennis, from badminton to squash and more. Let them book all your sports activities directly online.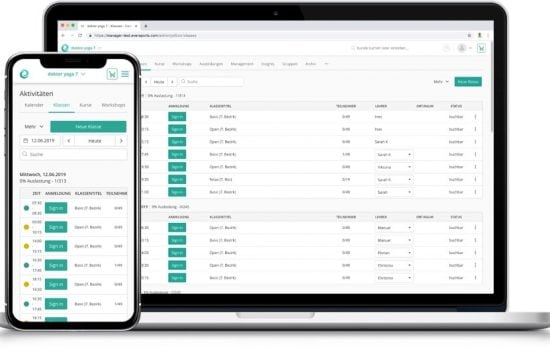 What our partners have to say
Get on board and boost your network
A selection of our unique features
What our sport software has to offer
With the sports software, you give your customers a good overview of your sports offers and allow them to book directly via your website or in the app. Your customers will enjoy checking availabilities themselves and you will save time.
Allow your customers to complete their booking by paying online with one of the common payment methods. This way you will have more time to focus on your customers on site.
Detailed client management
Set up groups, view unpaid invoices and keep track of bookings to fully organise your customer base! Customer management is now easy thanks to the detailed customer management of the sports software.
Not only will your invoices be automatically created, but they will also be delivered to your clients via email right after their online purchase. This lets you save valuable time!
Manage recurring bookings
The sports software allows you to manage recurring bookings efficiently. With just a few clicks, you can block courts for a desired period of time.
Our community grows bigger every day
Partners using our sports software tell their stories!
With an area of 57.000qm, the Happyland sport center in Klosterneuburg offers a wide range of sports activities. From tennis to football or even athletics training. All managed from one software.
The City and Country Club Wienerberg is a paradise for all sports enthusiasts. In addition to fitness programs, the club also offers tennis, table tennis, badminton, squash, paddle tennis and golf.
Sporttraum center in Munich uses the sports software of Eversports to manage their soccer and tennis courts as well as their fitness studio. Kids birthdays and fun activities like Bubble soccer are also common events.
Get your free demo to get started
Complete the form to schedule your free live demo and find out how Eversports Manager makes your work easier and saves your time in your daily administration.