The corona crisis massively influences our day-to-day lives. Also your yogis are now required to reduce social contacts and to shift their lives into their homes. Of course, this doesn't mean that nobody wants to do yoga anymore. On the contrary, it is now especially important to maintain a sense of community, to strengthen your immune system and to continue the exchange virtually. Eversports Manager offers your studio the possibility through online classes to keep your revenue going and to close your doors on site, but to open them virtually to even more people.
Offer your yoga classes online
Of course, no one knows how the situation will develop over the next months. However, a first step could be to switch to online classes. Birgit Pöltl from Yogazentrum Mödling has already been offering this option for a week. Of course, to switch your lessons to online classes will take a few more minutes in the beginning, but it is absolutely worth the effort. On the one hand you can continue to keep personal contact with your community and on the other hand you can maintain at least part of your revenue.
This is what you need to consider for offering online classes.
Create an online class
Determine which of your classes will be live streamed, your schedule should clearly state the possibility to participate online. The best way to do this is to adapt the title of your class and the description below. In the following example you can see how the team from the Yogazentrum Mödling adapted the timetable in Eversports Manager.
Select the tool for live streaming
There are different video conference tools that are suitable to live stream your classes. Programs free of charge are for example Hangouts or Skype. Zoom also offers a free service for up to 40 minutes, after which you would have to pay. Having deciding for a tool, you can set up the video conference and send the link to your participants.
Prepare your equipment for the online class
Make sure you have a stable internet connection in your studio to ensure a smooth yoga class. For the video you can either use the camera in your laptop or even better, a conference camera. With a headset you ensure better sound quality and, additionally, you can move around freely during your class.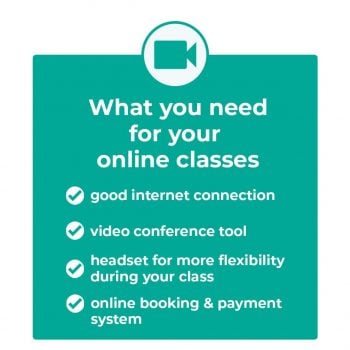 Offer online booking and payment
In order to make your classes available online, you have to ensure that your members can book and pay online. That is why a booking system for your studio is essential now. With a software like Eversports Manager your yogis can book your classes online via your schedule and directly pay via Paypal or credit card. With this you always keep track of who has registered for your online classes and whether they have already paid.
Inform your participants
15 Minutes before your class is going to start, the link in the Eversports App will be active and your members can join your online class. You can also send an email to all your participants in the Eversports Manager by clicking on "contact all participants".
Start your yoga online class
Time for yoga! Now you can fully concentrate on your yogis and teaching. Make sure that the exercises are easy to understand and that you give more verbal guidance than usual. It makes sense to have an additional yoga teacher in place, who shows the exercises while you explain to the participants what to do.
Other options for your yoga studio in times of Corona
Pause products
If your participants decide not to join your online yoga classes in the next time, you should accommodate their choice. In Eversports Manager you can pause memberships and products for a specific period of time. If the situation calms down, you can activate the product again.
Clear communication
In this exceptional situation, transparent communication is the key in order to relieve your yogis' fear and to inform them about all processes, measures and changes in your studio. Your newsletter and website offer the best way to reach and inform your community. In addition, Facebook and Instagram are of course also suitable to inform about your actions.