As the proud owner of a yoga studio, you're surrounded by competitors. In German-speaking countries there are more than 100,000 yoga teachers, of which more than 10,000 work full-time. With such a wide offer, it is often difficult to succeed or not to be noticed. Therefore, many newly established yoga studios are struggling from the beginning. A large number of them leave the business in the first two years.
Why is that? Sometimes the business challenge of opening a yoga studio is simply underestimated. That's why we want to give you six essential tips to stand out with your studio.
1. Think about additional sources of income
In all your classes you teach with passion. Your students enjoy every minute of class and they should! But apart from the lessons there are many other issues in your daily life and in the company. Even if your yoga classes get full, there are other ways to increase your turnover and do something good for your students at the same time.
Every lost opportunity is a lost income. As the saying goes:
"The pot always leaks!" 
Find the leak and stop it.
In a yoga studio there are customers full of enthusiasm before and after the classes. They may need new yoga materials like mats, blocks or a towel… maybe they're thirsty, do you offer drinks yet? There is a wide range of possibilities and it is worth listening to your yoga students to discover their needs.
2. Build a network and use it
No one grows up without a social network. Everyone knows someone. Don't be afraid to tell your friends, acquaintances and family about your studio and give them a business card. Maybe they know someone who's looking for a yoga studio. Offering free or reduced-price trial courses is also a good idea. 
Networks are the best opportunity for companies, even without knowing exactly what might come from a contact, there's always a chance that something will grow. That's why it pays to stay active, talk to people, and above all, tell them about your studio! Word of mouth is still the most efficient way to advertise local studios. And best of all, it's free!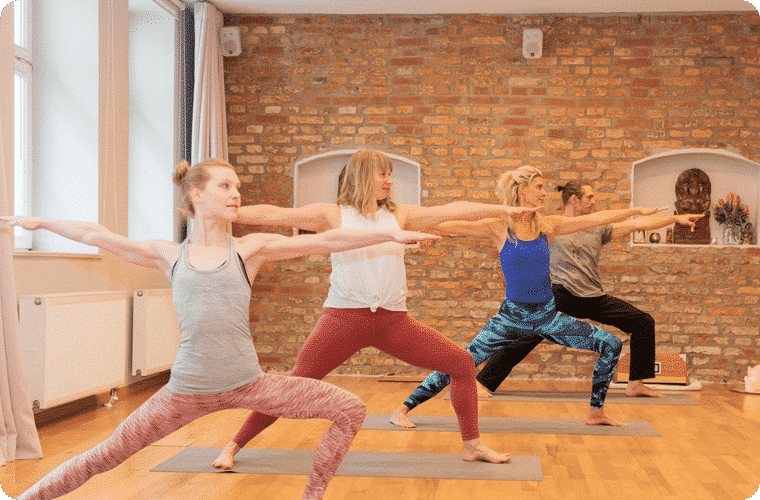 3. Collaborate with partners
You work alone? Why? Partnerships can lead to great initiatives. For example, you could showcase products from partners that support your overall concept. In return, you would receive a commission on sales or free items (for example, a new yoga book or yoga mats) for you and your students. The important thing is to find a win-win situation.
It is also interesting to develop cooperations with neighbouring companies that want to do something good for their employees. Some companies support their employees in activities that promote health as part of the company's commitment to sport. You could make a deal. You could offer the company special conditions and in return the company would send you its employees.
Partnerships allow you to expand your customer base. By collaborating with other companies, you will also expand your network at the same time. New partners might be interested in yoga lessons and might become paying customers.
4. Always consider your study from a business perspective
Do you have what it takes and are your clients satisfied with the classes? Do you have something for everyone; both beginners and professionals in the discipline?
In this case, look at your yoga classes in perspective. Sometimes a simple analysis of the numbers reveals what needs to be done. 10 am class on Wednesday morning only has three or four people coming, even though you'd have room for nine? Maybe it's better to combine certain classes or dates or maybe it would be better to schedule a class for another time. Even if you want to offer everyone the best possible solution, you should always consider your finances. Unfortunately, you often lose money because you want to make everyone happy.
On the other hand, the number of participants might increase over time, or it might also be interesting to add an additional course as a complementary product. Trends are also important. And with them you need to demonstrate your entrepreneurial spirit – think and plan ahead! Always consider what might happen and try to analyse it objectively.
5. Be unique: develop your distinctive feature
The unique selling proposition: USP as is known in English, the differentiating feature,  is the reason why your students come to you and not to other yoguis.
Why is a distinguishing feature so important?
Imagine you want to buy some new shoes. All around you there are exactly three shoe shops that offer the same selection at identical prices. The atmosphere is good in all the shops and the salespeople are friendly. What business do you choose? Without any distinguishing features, the decision is complicated, and the more competitors there are, the more important it is to stand out. I would like to emphasize that finding an unique selling proposition does not mean having to reinvent the wheel. It can be many things:
The location of your studio

Special classes (in other languages, with other approaches, sizes, etc.)

Certain additional offers that only you propose
Being different is good! Trust the advantage and keep working on it. This is why the students will come to you. You'll attract and convince new customers. 
Tip: think about why clients choose your studio and not another one. Simply ask your students why they come to you and what else they would like to get.
6. Always think about the real cost
The main source of income for your studio should come from classes. It is especially important to think about preparation and follow-up.
To illustrate this, imagine that you are giving a one-hour yoga class with ten people. 10 per person and thus get 100 euros per hour. However, the price does not include preparation or follow-up (exercise preparation, registration, billing, etc.). If we add one hour before and one hour after, you will have earned 100 euros for three hours. Therefore, the hour stays at 33 Euro. And we have not included other expenses such as taxes, rental costs or equipment!
Always take into account the real cost. It might be less than you think. Consider all the expenses again just in case! An administration software would also help you simplify routine tasks and save time on organizational tasks. This way you will always have more time for yoga and your clients.
Become an Eversports partner and try the Software for free !